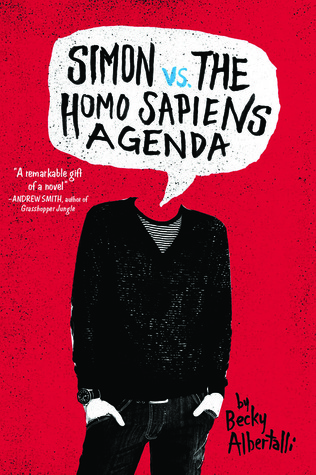 Simon vs. the Homo Sapiens Agenda
by Becky Albertalli
Release date: April 7th 2015
Published by: Balzer + Bray
Purchase on:
Amazon
Synopsis:
Sixteen-year-old and not-so-openly gay Simon Spier prefers to save his drama for the school musical. But when an email falls into the wrong hands, his secret is at risk of being thrust into the spotlight. Now Simon is actually being blackmailed: if he doesn't play wingman for class clown Martin, his sexual identity will become everyone's business. Worse, the privacy of Blue, the pen name of the boy he's been emailing, will be compromised.

With some messy dynamics emerging in his once tight-knit group of friends, and his email correspondence with Blue growing more flirtatious every day, Simon's junior year has suddenly gotten all kinds of complicated. Now, change-averse Simon has to find a way to step out of his comfort zone before he's pushed out—without alienating his friends, compromising himself, or fumbling a shot at happiness with the most confusing, adorable guy he's never met.
Review
It took me 7 1/2 days to finish Simon vs. the Homo Sapiens Agenda. 7 days to get to the middle but just half a day to finish the rest. I really struggled with the first half. I know this is a popular book that is well-loved by many, but I just couldn't get into it. I liked the idea of the anonymous email exchanges. It reminded me somewhat of Tell Me Three Things, but compared to TMTT, I found this book to be lacking. If it wasn't for the fact that I only have access to my Kindle cloud reader for the whole week with no other tempting titles to read, I would've flat-out abandoned this.
With the way things were going (read: cliché) in the first half, I thought that I had it all figured out for the rest of story, but I was so glad that I was no Becky Albertalli because this proved to be not as predictable as I thought. It exceeded my expectations and then delivered some more.
I didn't think I would get so invested into these characters because I found them really bland in the beginning. I felt equally nervous as Simon did whenever he planned about coming out to his friends or family. And I felt like my whole world just crumbled the same time his did when his secret came out. But there were also the moments when I'd get so absorbed into the story that I would forget that reality still exists like I'd randomly catch myself curling my toes giddily or grinning widely or sighing contentedly or three of those at the same time.
Pretty much all characters in this book are either easily likable or the kind that gradually grows on you. I loved the relationship within Simon's family although I felt like it was too perfect to be real. His friends, Abby, Leah, and Nick, are very supportive friends but I didn't really think that there's anything remarkable about them. I even enjoyed Martin's character more though I liked them all the same. And there's also the matter with Blue. Ohmygod Blue. I lived for their subtle flirtatious emails. I probably would've read the second half faster had I not been squealing at their every conversation especially when they finally met! Even though it was totally obvious who Blue was, it never made the story less exciting instead I was even more hyped about their inevitable meeting.
I'm so glad Simon vs. the Homo Sapiens Agenda didn't turn out to be the usual school bullying book where the formula is almost always protagonist + bff vs. the whole student population which eventually evolves to protagonist + love interest – bff vs. the whole school population. In Simon vs. the Homo Sapiens Agenda, more than half of the school population are non-bigot and they actually have common sense. There's even a teacher who stands up to her students' bullies!
Simon vs. the Homo Sapiens Agenda is a fantastic take on a coming of age (and a coming out) story with lovable characters and an inexplicably sweet romance. It doesn't sport heavy drama but at the same time it doesn't take matters too lightly.
Rating: 4.5/5 stars