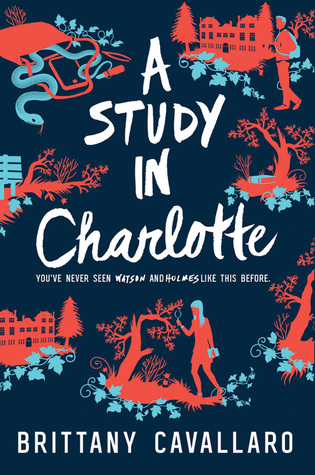 A Study in Charlotte
(Charlotte Holmes #1)
by Brittany Cavallaro
Release date: March 1st 2016
Published by: Katherine Tegen Books
Purchase:
Amazon
Synopsis:
The last thing Jamie Watson wants is a rugby scholarship to Sherringford, a Connecticut prep school just an hour away from his estranged father. But that's not the only complication: Sherringford is also home to Charlotte Holmes, the famous detective's great-great-great-granddaughter, who has inherited not only Sherlock's genius but also his volatile temperament. From everything Jamie has heard about Charlotte, it seems safer to admire her from afar.

From the moment they meet, there's a tense energy between them, and they seem more destined to be rivals than anything else. But when a Sherringford student dies under suspicious circumstances, ripped straight from the most terrifying of the Sherlock Holmes stories, Jamie can no longer afford to keep his distance. Jamie and Charlotte are being framed for murder, and only Charlotte can clear their names. But danger is mounting and nowhere is safe—and the only people they can trust are each other.

Equal parts tender, thrilling, and hilarious, A Study in Charlotte is the first in a trilogy brimming with wit and edge-of-the-seat suspense.
Review
I was counting on A Study in Charlotte to be a cool and fun read because Charlotte and James are supposed to be great great great something children of the Holmes and Watson that we all love even today.
Well, okay, so I admit that I don't really know the original Holmes other than what RDJ portrayed and I don't know how different he is from the original, so I really shouldn't be one to talk, but the point is: I didn't get what I expected here. I wanted a light, easy and fun read. What I got though, isn't necessarily bad either.
The journey in A Study in Charlotte is, most of the time, deep and heavy and it delves on issues like drug addiction, rape and possibly mental instability. I just wish they discussed the second issue more because it felt like it didn't get the hate it deserved despite the circumstances.
The story is told from Jamie's point of view though I really didn't dig his voice that much. Not to say that I didn't like him, however. His character was an okay one, but his voice sounded bland most of the time and while it was perfectly understandable why he seemed to fall in love with Charlotte at first sight, I just didn't like the way he pined after her. Plus points for him though for trying to stay away from Charlotte but you know, it's love, so.
The boy had been briefed about the Holmes' family at a young age and is constantly being updated to news about the Holmes' as he grew up because why not when the Watson's and Holmes' go way, way back in the days and Jamie's father is somewhat of a Holmes fanboy himself.
Charlotte, however, is a difficult character for me. I couldn't read her at all. She is riddled by a mysterious past and an even more troubled present. I hated her sometimes for using Jamie and keeping him in the dark in their investigations like she didn't trust him despite everything he did to help her. I did like her deduction skills though.
I liked the mystery the most. If anything, it was the "it" that kept me glued to the book and it left second-guessing the entire time which is just as well because I'd be extremely disappointed if I found out who the killer was before Jamie and Charlotte did.
Overall, A Study in Charlotte has a well-paced plot and with an unpredictable mystery. It could use some more development in the romance and character department, but other than those, A Study in Charlotte was a good read.
Rating: 3/5 stars!