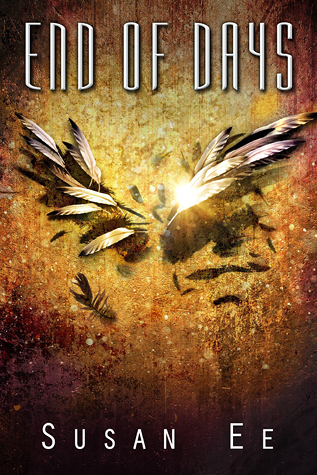 End of Days
(Penryn and the End of Days #3)
by Susan Ee
Kindle, 344 pages
Published on May 12th 2015 by Skyscape
Purchase:
Amazon
Synopsis:

End of Days is the explosive conclusion to Susan Ee's bestselling Penryn & the End of Days trilogy.

After a daring escape from the angels, Penryn and Raffe are on the run. They're both desperate to find a doctor who can reverse the twisted changes inflicted by the angels on Raffe and Penryn's sister. As they set off in search of answers, a startling revelation about Raffe's past unleashes dark forces that threaten them all.

When the angels release an apocalyptic nightmare onto humans, both sides are set on a path toward war. As unlikely alliances form and strategies shift, who will emerge victorious? Forced to pick sides in the fight for control of the earthly realm, Raffe and Penryn must choose: Their own kind, or each other?
When I first read
Angelfall
, it wasn't the big hit that it was today. It was just an indie book and there were like less than a hundred ratings for it on goodreads. I only picked it up out on a whim. And back then, Susan said this was supposed to be a five-book series. I also thought it was so cute how Susan was so excited about rave reviews that she would put the review links or the bloggers' blurbs on her website, until the rave reviews got too many and by the time I visited her website again, that section had been removed already. I can't believe that it has been four years since that time and Penryn and the End of Days has finally come to an end. Excuse me while I get emotional for a sec.
Okay. So for me, this series as a whole is…
THE. BEST. FALLEN. ANGEL. SERIES. EVER!
Seriously freaking Hell! I was close to raging and flipping all the tables in the vicinity when Raffe lost his wings again, but daaaang that Penryn x Raffe moment in the last chapter was too cute that all the rage evaporated immediately.
Had I known that End of Days was this good, I would've read this months ago. It would've cured my reading slump right after the first chapter. Oh, I missed the characters so much! Penryn is one heck of badass girl and Raffe is still such a bae. He gives you all these cute and fluffy romantic feels in the pit of your stomach. This is even magnified by the fact that he's not the type of guy to display such romantic acts. And Raffe's Watchers are love! Well, except one – Beliel. However, in this book, his character is finally given light. It's finally revealed why he betrayed Raffe and although the reason is unfair for Raffe, Beliel's bitterness toward him is still understandable, and I actually found myself sympathizing with him.
I fell in love with Raffe's Watchers. They are all so witty and extremely loyal to him, which IMO, are the two most important traits a character has to have in this series. Penryn, also, didn't lose her humor and I fell even more in love with the dynamic between her and Raffe! All their conversations are gold. And oh, Dee and Dum! I didn't know how much I missed them until they made their appearance here. However, if there's one unrealistic thing (aside from the supernatural side) here, it would be that there are way too many exciting and fun characters to be co-existing in one story, but that's also the one unrealistic thing I have no problem with. Because of them, there's honestly no dull moment in the book. Speaking of the characters though, if there's one whom I wanted to know better, it would've been Paige, especially after she changed. I felt like there's more story to be told about her, and I'd love to read a novella featuring her!
Weeks after reading and re-reading this, I still can't get over just how good End of Days is. This book really is such a super duper exciting read (excuse my lack of vocabulary) that you'll probably be needing oxygen by the time you reach the epilogue. I almost thought that there was going to be a fourth book because the last 20 pages were too intense that I thought it was impossible to wrap the story up without seeming rushed or failing miserably, but Susan Ee managed just that, and it wasn't just a well-written ending, but Susan ended the trilogy EPICALLY and MAGNIFICENTLY PERFECT!
I'll just try not to think about the fact that archangels don't age whereas humans do.
Great job, Susan Ee!!! I can't wait to read her next series because I know it's going to be another fantastic one!
Rating:
5/5 stars!