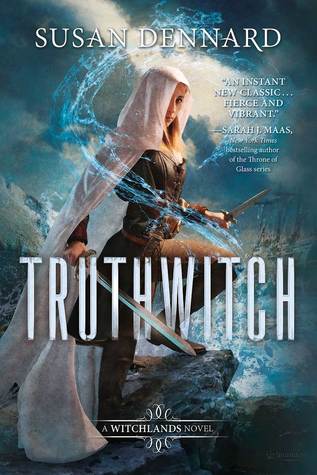 Truthwitch
(Witchlands #1)
by Susan Dennard
Release date: January 5th 2016
Published by: Tor Teen
Synopsis:
In a continent on the edge of war, two witches hold its fate in their hands.

Young witches Safiya and Iseult have a habit of finding trouble. After clashing with a powerful Guildmaster and his ruthless Bloodwitch bodyguard, the friends are forced to flee their home

Safi must avoid capture at all costs as she's a rare Truthwitch, able to discern truth from lies. Many would kill for her magic, so Safi must keep it hidden - lest she be used in the struggle between empires. And Iseult's true powers are hidden even from herself.

In a chance encounter at Court, Safi meets Prince Merik and makes him a reluctant ally. However, his help may not slow down the Bloodwitch now hot on the girls' heels. All Safi and Iseult want is their freedom, but danger lies ahead. With war coming, treaties breaking and a magical contagion sweeping the land, the friends will have to fight emperors and mercenaries alike. For some will stop at nothing to get their hands on a Truthwitch.
Review
Ohhlala Truthwitch~ It was a spur of the moment decision to pick this up from the bookstore, but I am so glad for that moment because Truthwitch turned out to be one hella fantastic read!
Truthwitch kicks off with a pretty action-packed first chapter. The kind of pilot chapter that will make you think, "Oh, this is about to be good." We have two headstrong girls, Safi and Iz, and they scream girl power! They've been Threadsisters for the longest time and I love, love, love their bond. Their friendship is one of the highlights in this book for me. They complement each other's personality just as well. Safi is impulsive and spontaneous while Iz plans and thinks things through. Safi tends to be spoiled and self-centrered at times when it comes to other people, but is very protective of Iz and both of them will go out of their ways to save the other.
I do love their relationship and I like Iz alright, but I gotta admit that Safi did get on my nerves though only for a short while. I love that she would do everything in her power to save Iz—and she did but in the process, endangered the lives of other people as well. She exploited Merik's limitations and most of the time it wasn't even for something important, but only because she can. I was as frustrated as her as Merik was. But then she had a change of heart and that was when I started to really love her as Safi. Dennard wrote her emotions quite well because I could totally feel her remorse making the change in her character feel even more precious to me.
Another thing that's worth noting though is the romance. THERE IS NO INSTA-LOVE! Thank goodness for that. I enjoyed Merik and Safi's banters not because they're being cute together but because they just genuinely disliked each other, and also because they were cute. They went from enemies to ones who like each other more than friends, haha. That's another thing I loved about the romance. Truthwitch doesn't focus on the romance however it's crystal clear that it's going to be a big deal in the coming books. The slow burn of it also ensures that readers can see why and how these characters came to feel what they feel for the other. There's no full on love between the two and it's just making me crave for MerikxSafi even more.
As for the other characters— gosh, Merik, Safi and Iz aren't the only interesting people here. I adored Kullen's loyalty to Merik, but it also broke my heart. Aeduan, also, is not your conventional villain and I do believe that there is more to him than what he showed in this book. Polly as well came as a huge surprise for me. Dennard wrote characters that grow on you and characters that will keep you second-guessing, and then both.
Truthwitch was one hell of a ride for me. It started out good, then meh, then better, then "holy what?!" and then "oh my words please I want more!" It's one of the most anticipated books of 2016 with tons of early rave reviews so naturally, I tread with it really carefully because me and popular books don't get along well that much. I didn't even know anything about the story except for what the title seems to mean, and that only makes me all the more thrilled about this book. So yes, it goes without saying that I am head over heels for Truthwitch. It has a lot of foreshadowing, too, and I cannot wait to see what Dennard will make of them and what more she has in store for us.
Overall, Truthwitch is a story with a fantastic premise, well-rounded characters, interesting villains, and awesome world-building with swoony romance.
Rating: 4.5 stars!