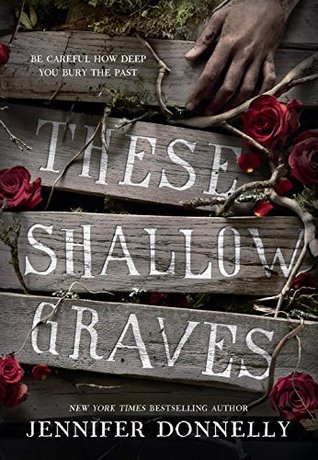 These Shallow Graves
by Jennifer Donnelly
Release date: October 27th 2015
Published by: Delacorte Press
Purchase link:
Amazon
Synopsis:
Jo Montfort is beautiful and rich, and soon—like all the girls in her class—she'll graduate from finishing school and be married off to a wealthy bachelor. Which is the last thing she wants. Jo secretly dreams of becoming a writer—a newspaper reporter like the trailblazing Nellie Bly.

Wild aspirations aside, Jo's life seems perfect until tragedy strikes: her father is found dead. Charles Montfort accidentally shot himself while cleaning his revolver. One of New York City's wealthiest men, he owned a newspaper and was partner in a massive shipping firm, and Jo knows he was far too smart to clean a loaded gun.

The more Jo uncovers about her father's death, the more her suspicions grow. There are too many secrets. And they all seem to be buried in plain sight. Then she meets Eddie—a young, brash, infuriatingly handsome reporter at her father's newspaper—and it becomes all too clear how much she stands to lose if she keeps searching for the truth. Only now it might be too late to stop.

The past never stays buried forever. Life is dirtier than Jo Montfort could ever have imagined, and the truth is the dirtiest part of all.
Review
I haven't read mystery or historical for quite a while now so These Shallow Graves was definitely a welcome surprise for me especially since it's both mystery and historical and also because Donnelly wrote this so magnificently that it was seriously hard for me to put it down. Yes, it was that good! The book is a little thicker and bigger compared to my recent reads and with my disappointment with Donnelly's previous book, Revolution, I was partial about this but a friend told me it was really good, so why not.
The historical setting, 1890's New York City, in These Shallow Graves was a breath of fresh air. And the mysterIES? I am head over heels in love despite one of them being utterly predictable. But even so, Jo and Eddie as amateur detectives was a fun sight indeed. My favourite part though would be the autopsies. Finding out the manner of death of a person based on the wounds, blood clots, the position of the body, etc. will forever be a source of awe for me.
As well, the romance in this book is breath-taking. There's no insta-love here and the process of Jo and Eddie falling in love was so natural. I loved their banters—both playful and serious alike. I admit that at times my excitement for the mystery was overshadowed by my desire for them to just talk and be together, which says so much because I freaking love, love, love the mystery here, guys! The problem with their relationship though is that whereas Jo came from a wealthy family, Eddie is a mere newspaper reporter, so he's basically poor.
On that note, wealth is one of the more prominent issues here, and so is sexism, which is why I hated Jo's grandmother so much. She firmly believes that a woman's essence in life is to produce a child and their ultimate goal should be to marry a wealthy gentleman. It wasn't only she who thought that. Even the teenage girls seemed to have accepted that to be a fact as well. It was sickening how they sometimes compare women to expensive dogs that you can sell on the market, yet it was the reality of the 19th century. I mean even now, there are some people who still think that way.
It is why loving Jo as a character, to me, was inevitable because she's a very headstrong person for doing the opposite of what the society expected from women like her, and more so because she's only just a girl in a time when sexism was a real deal.
These Shallow Graves blends mystery and romance in the most spectacular way possible. There was literally no boring part in this book. I loved every pages of it and I love that it touches on issues that are still relevant today.
Rating: 5/5 stars!